CHATTOGRAM: Chattogram district, including the port city is in high risk of major landslides or hill slides in rainy season, experts said.
They said major landslide may occur anytime anywhere in mountainous areas of the city and many upazilas of the southeastern district as continuous heavy shower in the last several days triggered hill slides in several hills of the city on Monday, and made topsoil of all city hills very wetty, muddy and weak which may cause more landslides in highlands and hills.
However, no casualty was reported the multiple hill slides which took place in Monday's during the downpour in several hills on both sides of Bayazid Link Road in the city.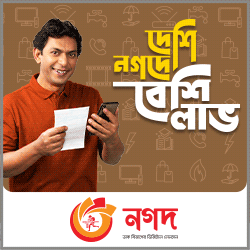 Besides, heavy rains which started on Sunday morning and continued intermittently until on Monday night, inundated low-lying city areas and caused flash floods in many upazilas around it and in several other parts of the district.
Local Met Office sources said that fresh landslides may take place in hills and high lands as more rains are forecast for the coming days in Chattogram division, including the city.
Indiscriminate hill cutting was one of the main causes of landslide in the city and its suburbs, they said.
Meteorologists and geologists said there are hundreds of small and medium hills in the port city and at least 50,000 people live illegally on hilltops and slopes erecting unauthorised structures on them.
Landslides occured in the city almost every year during rains, especially in monsoon, which left scores killed in the past.
District administration officials said apprehending hill slide, they had shifted over 5,000 people of 120 families from 18 risky city hills to safer places before and during rains on Sunday and Monday.
Additional Deputy Commissioner of Chattogram Mohammed Najmul Ahasan said, "We have already prepared 30 shelters in Chattogram. Of those, 19 are in the port city while the rests are in surrounding upazilas and rural areas. The hill dwellers are being shifted from hills and mountainous areas to shelters."
A senior meteorologist at the Patenga Met Office warned that there was danger of landslides anywhere in the city and mountainous areas of Chattogram division in heavy rains this season.
The Met Office recorded over 79 milli metre (mm) rainfall in the city on Sunday.
During the downpour, landslides occurred in hills on both sides of Bayazid Link Road triggering panic in the area. The district administration stopped movement of vehicles on the road for a couple of days.
"The heavy rains could trigger further landslides in hilly areas," warned the meteorologist. There may be 44 to 88mm rainfalls in the next few days, the weatherman added.
Sources said, landslide is one of the main problems in the port city. Innumerable incidents of landslides occurred during rains almost every year in the past killing scores and injuring hundreds.
Random hill cutting is the prime cause of landslide in the port city. A section of unscrupulous land businessmen in connivance with local influential people and local administration officials, including police, have already fully or partially leveled around 200 hills, destroying beauty of the city, threatening environment.
The city's landslide-prone areas are Lalkhan Bazar, Bayazid Bostami, Motijhorna, Khulshi, Panchlaish, Sholoshahar, Foy's Lake, Oxygen Intersection and Polytechnic hill.
More than 50 thousand people, mostly from low-income group, are living on hilltops or slopes risking their lives due to possible landslide.
Despite multiple measures taken by the government in the past, they did not leave those risky hilly residences as they have no other shelters to live in the port city.