Nestlé Bangladesh started the operation of its 'Infant Formula Processing, Filling and Packaging Plant' in Sreepur, Gazipur on Wednesday to provide uninterrupted supply of baby food items in the country.
The state-of-the-art plant built with an investment of Tk 1.5 billion will create more opportunities, including employment generation, innovation, and technological advancements, in this country along with supply of most advanced nutritious products.
Globally, infant formula products are the result of the latest advancement of science and research in Nestlé R&D world, and only 34 factories in the world have such modern 'Infant Formula Processing, Filling and Packaging Plant'. Nestlé Bangladesh has joined the league with this plant in Bangladesh.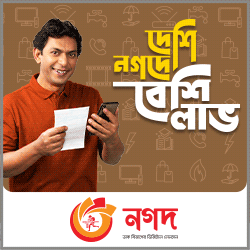 Currently, the infant food market size is approximately 10,000 tonnes, and Nestle shares around 55-60 per cent of the market demand, according to official sources.
Nestlé, a multinational food and beverage company in the world for more than 153 years, has been serving Bangladesh with food items for over 26 years.
Nestlé Bangladesh contributed Tk 6.0 billion (directly and indirectly) to the national exchequer last year and has received the highest taxpayer award in food and allied category for the last five years in a row.
Industries Minister Nurul Majid Mahmud Humayun inaugurated the plant at a virtual event.
Deepal Abeywickrema, Managing Director of Nestle, said Bangladesh has made impressive progress in achieving the sustainable development goals and has put Bangladesh amongst fastest growing economies in the world map.
"Bangladesh's success in reducing child malnutrition to almost half has been the quickest in recorded history, which became possible for the investment and intervention made to this sector," he added.
"Driven by purpose and touching the lives of millions by addressing their daily nutritional needs, we take pride in bringing nutritionally superior products to people of Bangladesh with highest standards of safety and quality in our world-class facility at Sreepur factory," he continued.
Md Sirazul Islam, Executive Chairman of Bangladesh Investment Development Authority (BIDA), Suresh Narayanan, Market Head, Nestlé South Asia Region, Arshad Chaudhry, Nutrition Business Head, Nestlé Zone Asia-Oceania-Africa, Stefan Bernhard, Regional Manager, Nestlé Zone Asia-Oceania-Africa, and Christian Schmid, Head of Technical, Nestlé Zone AOA, joined the programme.