The number of goods-laden export containers at the off docks in Chattogram has lessened significantly now compared to a few weeks back when it reached over 16,000 twenty-foot equivalent units (TEUs).
On Monday, the total export containers there were 8,736 TEUs which were waiting for feeder vessel nomination.
Usually, some 6,000 TEUs of export containers wait at the 17 privately owned off docks in Chattogram.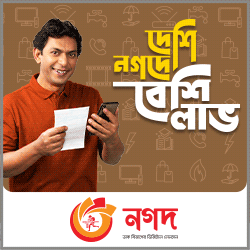 Once they are given feeder vessel nomination, the boxes are taken to the port to load to the vessels to be sent to their destinations.
Shipping sector officials said the non-availability of required empty containers and inadequacy of feeder vessels on the Chattogram-Colombo route were behind the stockpile of export-laden boxes at the off docks. Some of the containers even waited nearly one month, after being stuffed, according to Ruhul Amin Sikder, secretary of the Bangladesh Inland Container Depots Association (BICDA).
At one stage, the Chattogram port authority started providing priority berthing to vessels that ply on Chittagong-Colombo route and gave permission for deployment of seven more ships on the route.
These enhanced the frequency of voyages on the Chittagong-Colombo route and helped lower the number of outbound containers at the off docks.
However, the priority berthing of vessels on this route has raised vessel waiting time for other routes.
The average berthing delay for vessels plying the Chattogram-Singapore and Chattogram-Malaysia routes increased to over five days. Even some ships had to wait up to 10 days at the outer anchorage of the port to unload boxes.
Amid the situation, the Bangladesh Shipping Agents Association this week in a letter requested the port authority to provide berthing to vessels on 'first come first serve' basis.
BSAA President Syed Mohammed Arif said statistics received from private depots showed that the backlog of Colombo-bound export containers had been minimised to a reasonable extent.
He also wrote to the port authority that prioritising Colombo-bound vessels brought adverse effects in the berthing schedule of ships connecting Singapore and Malaysia.
Bangladesh receives about 75 per cent of its import containers and sends about 60 per cent of export containers through the Singaporean and Malaysian transhipment ports, he wrote.
Colombo port contributes only 25-30 per cent of the total inbound containers through the Chattogram port, Mr Arif further said.
"…therefore, increased waiting time for vessels in other corridors by imposing and continuing priority for Colombo route will cause further upset in shippers already troubled supply chain models," he added.