Bangladesh Krishi Bank (BKB) has committed to implementing automation in all its branches with core banking software solution by June 2020.
The bank made the pledge at a performance review meeting of two state-owned specialised banks held at the Bangladesh Bank (BB) headquarters in the capital on Wednesday, with BB Governor Fazle Kabir in the chair.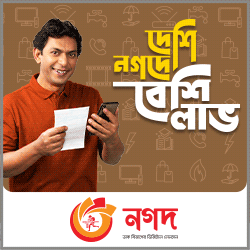 At the meeting, the two banks -- BKB and Rajshahi Krishi Unnayan Bank (RAKUB) -- urged the central bank to enhance refinancing facility so that they can reduce their dependence on high-cost funds.
The meeting reviewed the progress in the implementation of the memorandums of understanding (MoUs) signed between the BB and the banks, and the key financial indicators of the banks, officials said.
The BKB gave a briefing on the recent developments of its remittance business and opening of new accounts, especially in rural areas, they added.
Chairmen of the board of directors and the managing directors (MDs) of the banks attended the meeting.
"We're working towards bringing all our 786 branches across the country under automation through core banking software solution by the end of this fiscal year," BKB Managing Director Md Ali Hossain Prodhania told the FE after the meeting.
The specialised bank is currently managing 70 per cent of businesses with its 425 automated branches, according to the MD.
The remittance business of BKB has increased significantly in recent months after the bank's management launched various drives to encourage the inflow of remittance through the public bank.
The BKB collected about $104 million as remittance during the July-October period of this fiscal, up from $39.85 million in the same period of FY '19.
"We want to increase our balance sheet size to Tk 300 billion by 2020 from the existing level of Tk 220 billion with supports from the regulator as well as the ministry of finance," Mr. Prodhania said.
The BKB opened around 0.5 million fresh accounts of farmers in FY '19, which helped increase low-cost deposits by 2.0 per cent in the bank.
Nearly 0.2 million framers have been brought into the BKB network as fresh borrowers in the last fiscal, according to its officials.
The bank has already disbursed Tk 24 billion among the fresh borrowers in FY '19, they added.
Talking to the FE, a senior BB official said the central bank advised the two specialised banks to step up their low-cost deposit mobilisation drives using their branch networks across the country.
"We've also asked them to intensify their recovery drives across the country to reduce non-performing loans," the central banker said.
The specialised banks have also been asked to take effective measures to gradually meet the capital shortfall with their own resources and the government's financial support, he added.
The meeting also reviewed other issues of the two banks, including recovery position of default loans, liquidity situation, credit growth, operating expenses and cost of funds.