Stocks extended the winning streak on Tuesday with the core index of the Dhaka Stock Exchange (DSE) crossed the 5,700-mark ahead of the Eid holiday.
The market opened sharply higher which sustained till the closure amid growing confidence of investors in the market.
DSEX, the prime index of the DSE, jumped 78.67 points or 1.39 per cent to settle at 5,724. It has been three and a half months high since January 28.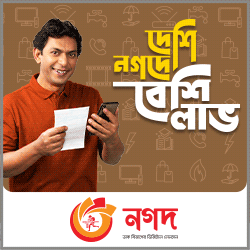 Two other indices also ended higher with the DSE 30 Index, comprising blue chips, advanced 28.76 points to finish at 2,194 and the DSE Shariah Index (DSES) rose 10.41 points to close at 1,271.
Turnover, a crucial indicator of the market, also soared to Tk 14.03 billion on the country's premier bourse, in a further buck by 3.78 per cent over the previous day's tally of Tk 13.52 billion.
Market operators said the investors continued their buying interest in selective large-cap stocks amid growing confidence in the market as recent market momentum showed optimism.
The market rally came on the back of positive macroeconomic indicators in the country like remittance, foreign reserve, export growth coupled with better than expected earnings declarations, said a top broker.
He noted that lower return from the money market, easing virus worries coupled with an extension of margin loan cap implementation time for another six months, continued to lure investors to put fresh funds on stocks.
Gainers took a strong lead over the losers, as out of 362 issues traded, 218 advanced, 71 declined and 73 issues unchanged on the DSE trading floor.
Beximco - the flagship company of Beximco Group- continued to dominate the turnover chart with shares worth about Tk 1.20 billion changing hands, followed by Brac Bank (Tk 570 million), National Feed Mills (Tk 513 million), BATBC (Tk 445 million) and Robi (Tk 425 million).
A total number of 211,728 trades were executed in the day's trading session with a trading volume of 456.15 million shares and mutual fund units.
The market cap of DSE also rose to Tk 4,886 billion on Tuesday, up from Tk 4,831 billion in the previous session.
The Chittagong Stock Exchange (CSE) also ended higher with the CSE All Share Price Index – CASPI –soaring 235 points to settle at 16,566 and the Selective Categories Index – CSCX rising 142 points to close at 9,990.
Of the issues traded, 176 advanced, 65 declined and 46 remained unchanged on the CSE.
The port city's bourse traded 21.61 million shares and mutual fund units with a turnover value of Tk 536 million.