The market opened sharply higher on Wednesday after the previous day's marginal rise as investors are putting fresh bets on stocks,
Following the previous day's marginal gain, the market opened higher and the DSEX, the prime index of the Dhaka Stock Exchange (DSE), went up by 48.68 points or 0.80 per cent to reach 6,071 within the first 30 minutes of trading when the report was filed at 10:30 am.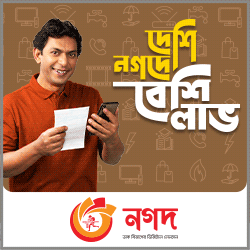 Two other DSE indices saw an upward trend till then with the DS30 index, comprising blue chips, gained 14 points to reach 2,190 and the Shariah Index (DSES) rose 8.80 points to stand 1,292.
Turnover, another important indicator of the market, stood at Tk 3.98 billion within the first 30 minutes of trading at 10:30 am.
Market operators said the bargain hunters showed their appetite riding on the news that the special facility to legalise undisclosed income in stocks is likely to continue in the next fiscal year.
The finance bill 2021 may include the continuation of the special facility to whiten black money which can have a positive impact on the market, they said.
Of the issues traded till then, 235 advanced, 63 declined and 49 remained unchanged on the DSE trading floor till then.
BSRM Ltd was the most traded stock till the filing of this report with shares worth Tk 180 million changing hands, closely followed by Orion Pharma, BBS cables, and Saif Powertec.
The port city bourse – the Chittagong Stock Exchange – (CSE) also opened sharply higher with CSE All Share Price Index- CASPI-gaining 71 points to stand at 17,535 also at 10:30 am.
Of the issues traded till then 58 advanced, 42 declined and 45 remained unchanged with Tk 75 million in turnover.