Above 1.04 million farmers have directly benefited from a project run by the USAID's Feed the Future Initiative.
The project titled 'Rice and Diversified Crops Activity' started in 2016 aiming to raise the income of the marginal people in the rural areas as well as ensuring food and nutrition security of the community.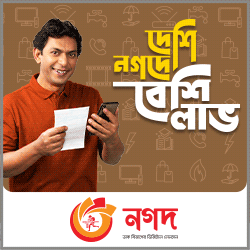 It was revealed during a webinar on the project organised by USAID's Feed the Future Initiative project.
Team Leader of Rice and Diversified Crops Activity Bidowra Tahmin Khan presented the keynote.
It said the five-year project amounting US$ 24.5 million has almost come to an end. During these five years, 1.041 farmers have directly been benefited from the project.
The project targets to provide productive inputs, more suitable and higher-value seeds, bio-remedies, crop protection products, access to finance and mechanised services, and crop and production advisory services.
It aimed to raise participation in profitable market systems through the introduction of market-suited crop varieties, crop take-off agreements, seed contract farming, processing linkages, integrated services as well as linkages to urban markets.
The project contributes to the U.S. government's work in 'the USAID Zone of Influence', which comprises 21 southern districts within the divisions of Khulna, Barisal, and Dhaka.
USAID's Zone of Influence is a geographic area where the U.S. government's Feed the Future investments are focused in order to contribute to measurable and sustainable improvements in food security and nutrition, said the paper. The project partnered with companies such as ACI Seed, Ali Seed Farms, Bayer Crop Science, Chaldal, Ispahani, Jadid, Konika Seed, Metal Ltd, Bank Asia, BRAC Bank, Prantojon, and UOMSCL, among others, to accomplish the objectives.