Seven more people who tested positive for coronavirus died at Khulna Corona Dedicated Hospital in the past 24 hours, health officials said on Wednesday.
Besides, authorities have recorded 81 new cases on Tuesday, after testing as many as 279 samples, less than Monday's single-day record tally of 131, reports UNB.
Those who died were identified as Darbesh Ali, 72, of Jhenaidah, Selim Jamadar (65) of Morelganj, A Malek, 75, Trishar Kanti (58) of Phultala upazila in Khulna, Ayzan Begum (75) of Koyra upazila, Kazi Saidur Rahman, 74, of Jashore district, and A Hye Shikdar, 80, of Bagerhat district.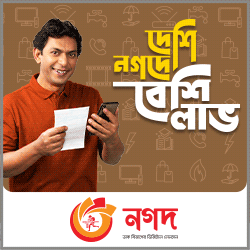 So far, 295 people have died of Covid-related complications at Khulna Corona Dedicated Hospital, officials said.
Of the new cases, 39 people are from Khulna, 26 from Bagerhat, two each from Jashore and Pirojpur, and one each from Gopalganj and Jhenidah districts, officials said.
Resident Medical Officer of Khulna Medical College and Hospital and the nodal person for its corona unit, Dr Suhash Ranjan Haldar, said 129 people are currently undergoing treatment at the dedicated Covid facility.
Of them, 63 have kept in the red zone, 28 in the yellow zone, 20 in the intensive care unit (ICU), and 19 in the high dependency unit (HDU).
Meanwhile, authorities have imposed lockdown restrictions in Sadar, Khalishpur, Shonadanga areas of Khulna city, Paikgachcha municipality, and Rupsha upazila to break the chain of Covid-19 transmission.