Two people were killed and several others injured on Monday in election-related violence in Gournadi Upazila of Barishal district, police said.
The deceased were identified as Mauje Ali Mridha, 65, and Abu Bakr.
Mauje was killed in clashes earlier in the day when 10 others were also. Abu died in post-election violence.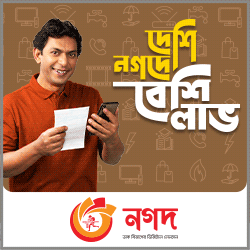 Deputy inspector general of police (DIG) of Barishal range SM Akhtaruzzaman confirmed the deaths.
He said Abu was injured by a crude bomb explosion (cocktail) when supporters of defeated candidate Aroj Ali Sarker attacked the procession of the victorious candidate Gias Uddin Mridha following the announcement of the result," he said.
Abu was rushed to a local medical facility where the on-duty doctor declared him dead," the DIG added.
Earlier in the day, a 65-year-old Mauje was killed and at least 10 others were injured in election violence in the same upazila.
He was also a victim of crude bomb explosion, which is popularly known as cocktail.
Elsewhere in the country, a man was killed in a clash between the supporters of two member candidates during voting at Hajirganj Union Parishad in Charfashion upazila of Bhola district.
The victim was identified as Munir Majhi, 25, son of Bashir Shikder of the village.
Mohammad Kaisar, superintendent of Bhola Police, said the clash broke out between the supporters of two member candidates -- Yasin Majhi and Ruhul Amin—in Charfakira area around 11:00am.
There was a chase and counter chase during the clash.
At one stage, they exchanged gunshots, leaving Monir Majhi injured. He was taken to a local hospital where doctors declared him dead, said the SP.
The by-election to Laxmipur-2 constituency as well as regular polls to 204 Union Parishads (UPs) and two municipalities are underway on Monday amid the coronavirus pandemic, reports UNB.