That pearls can be produced in ponds is what one Abul Hossein Khan in Magura has made possible.
As the government enforced a lockdown across the country in efforts to contain the Covid-19 pandemic in March, people in the country were stuck at home.
He was not an exception – but an exception, unlike many others, in the sense that though he was passing an idle time at home, he had the mind to do something new.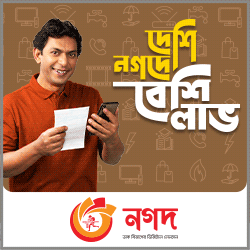 That is why, while watching YouTube for entertainment, he was also in quest of something that he could do.
Khan, from Keshtapur village under Sadar upazila, one day came to know through the video platform that pearls can be produced in pure water.
He consulted two experts of India and Patuakhali.
After consultation, he started peal cultivation in six ponds with pure water using the bagging method. The ponds are three acres in total.
Explaining the bagging method, he describes that oyesters are put into bags and then pushed under water for growing healthy with pearls.
Like fishes, oysters are provided with food twice a week. The food items include oil cake , cow dung, TSP and Urea fertiliser. Oysters take 10 to 12 months to produce pearls.
Pearl farmer Khan says he is cultivating pearls along with fishes in his ponds.
As for pearls, he says he has cultivated pearls in 25 thousand oysters and is now expecting 100 thousand pearls.
"I started pearl cultivation only out of hobby. Now I am thinking of cultivating pearls on a commercial basis," Khan says.
"At present pearls are not being exported to foreign countries, and the government should take an initiative about this," he says.
Bangladesh holds a potential for earning huge foreign currency through pearl cultivation and export as well as creating employment opportunities, he adds.
When contacted, Magura Sadar Upazila Fisheries Officer Sharif Hasan Shohag says, "The water and the weather conditions of this district are congenial to producing pearls.
"Huge employments can be created through pearl cultivation; and we are ready to co-operate anybody who wants to cultivate pearls in the district."