Two key indicators in Bangladesh's external trade, export and import, as ratio of GDP remain squeezed somewhere around 10 while that of competing Vietnam's ride over 100 per cent, economists observe.
Finance officials find a new base year in calculation as a factor for the subdued figures of export and import as percentage of gross domestic product or GDP. Both were growing steadily under the old baseline.
However, some eminent economists gainsay such observations, and say there might be something wrong in measuring the trade performances in relation to the country's GDP.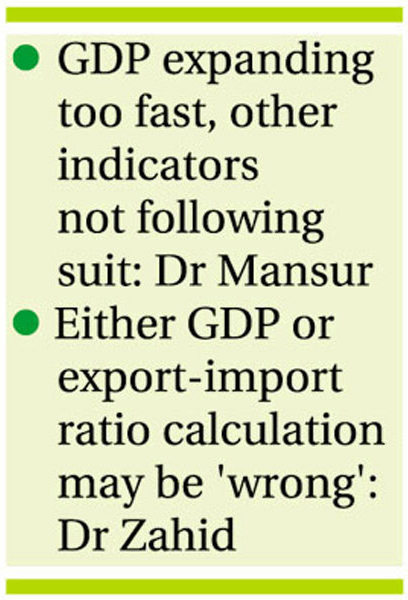 In such declining trends of the indicators critics term least one of the indicators "false". Otherwise, they think, it should have insignificant changes at a time when the economy rebases.
Export as a ratio of GDP stood at 9.4 per cent in 2021 while import at 13.55 per cent under the new base year. Under the old baseline, export is 10.8 per cent while import 15.86 per cent.
In any event, these two indicators measured on the new baseline remained much lower than the projected growth against the target set in the ongoing 8th five-year plan. It forecast export to be 12.83 in fiscal year 2021 while import 18.79 per cent.
Vietnam, one of the competing nations to Bangladesh on the external-trade front, is having more than 100- per cent export and import against its gross domestic product.
Economists say either of the two is false, otherwise changes in the GDP should have been minimal. And they adjust in later years. In Bangladesh the changes or falling trends do not pick up.
Dr Ahsan H. Mansur, executive director at the Policy Research Institute of Bangladesh (PRI), told the FE that it is a matter of concern that all major indicators have been falling under the new baseline.
"Actually, I don't get any relationship," he says about the equation disproportions.
He thinks a growing and sound economy should have seen increase in all indicators as rebasing considers all changes.
"To my mind, the ratios may nudge up a little bit. But here in Bangladesh the GDP is expanding too fast but other indicators are not following suit," says Dr Mansur, who had worked in a division at the International Monetary Fund (IMF).
However, higher exports mean that the country's exporting base is getting strengthened. Higher import is necessary to feed both the industry and the people.
Dr Zahid Hussain, another independent voice who is also familiar with government fiscal matters, says: "To my mind, one of the two figures [either export or import against GDP figures] is not true."
Here the numerator is export and import and the denominator is GDP. If GDP becomes high, then the ratio will fall, and vice-versa, he told the FE.
"Maybe, the GDP data are wrong or the tax-collection figures are wrong. I don't know which one is correct."
He says Bangladesh is comparing itself with its similar peer countries across the globe. In the most similar country, Vietnam, export and import as ratio GDP remained more than 100 per cent of its GDP.