The Bangladesh Embassy in Japan celebrated the 47th Victory Day in Tokyo on Saturday with due respect and festivity.
Bangladesh Ambassador to Japan Rabab Fatima hoisted the flag on the Embassy premises in the morning.
Officials and representatives of Bangladesh community were present at that time.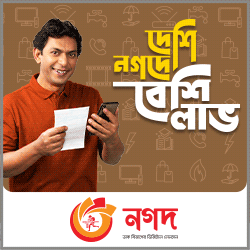 In her welcome speech, Rabab Fatima urged all Bangladeshis, especially those living in Japan, to contribute to the wellbeing of the nation and upholding the country's image.
Senior Vice President of JICA Hidetoshi Irigaki, President of Japan-Bangladesh Society Matsushiro Horiguchi and leaders of Bangladesh community spoke on the occasion.
The Bangladesh Embassy awarded the Ambassador Award to two cultural groups -- Sworolipi Cultural Academy and Uttaran.
According to UNB, Bangladesh Cultural Group, Japan - for the first time for upholding the Bangladeshi culture and history to the people of Japan.
Besides, two groups of the students from the Tokyo University's Foreign Studies department presented Bengali songs at the programme.