The stock market opened sharply higher on Thursday with the key index of the major bourse crossing the 6,100-mark thanks to increased investor participation.
The market jumped at the opening and the prime index of the Dhaka Stock Exchange DSE) soared 50.04 points or 0.82 per cent to reach 6,105 points within the first 40 minutes of trading when the report was filed at 10:40 am.
Market experts said budgetary measures, lower returns on the money market, limited scope of investment in other instruments, and regulatory reforms continued to cheer investors to park their funds on stocks.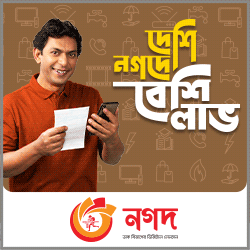 The last minute rush to take the advantage of whitening black money through investment in the capital market by the end of this month might also have a contribution to push up the turnover, said a leading broker.
The new budget proposed to cut the corporate tax rate for the listed firms by 2.5 percentage points to 22.5 per cent for the upcoming fiscal year which added impetus to the ongoing market rally, he said.
However, the ongoing facility to invest undisclosed money in the capital market would not be allowed in the next fiscal year.
The expiration of a special facility to whiten the black money this month might bring some fresh funds in the market over the next few weeks, he added.
Two other indices also opened higher with the DS30 index, comprising blue chips, rose 12.46 points to reach 2,215 and the Shariah Index (DSES) gained 7.18 points to stand at 1,303 points.
Turnover, another important indicator of the market, stood at Tk 5.52 billion within the first 40 minutes of trading at 10:40 am.
Of the issues traded till then, 247 advanced, 81 declined, and 23 remained unchanged on the DSE trading floor till then.
Beximco was the most traded stock till filing of this report with shares worth Tk 524 million changing hands, followed by National Polymer, Islamic Insurance, Sandhani Life Insurance, and BD Finance.
The port city bourse – the Chittagong Stock Exchange – (CSE) also opened higher with CSE All Share Price Index- CASPI-rising 48 points to stand at 17,563, also at 10:40 am.
Of the issues traded till then 87 advanced, 42 declined and 48 remained unchanged with Tk 86 million in turnover.