The much-talked-about Kalurghat Railway Bridge will now be constructed on the outskirts of Chattogram city with laying of dual gauge single line track as per a fresh study.
The fresh feasibility study has, however, proposed increasing the project cost of the 1.0-kilometre bridge to Tk 20 billion from Tk 11.65 billion due to lapse of six years.
The first study done with fund from Korean EXIM Bank proposed Tk 11.65 billion as the project cost of the rail-cum-road bridge with dual gauge single line track.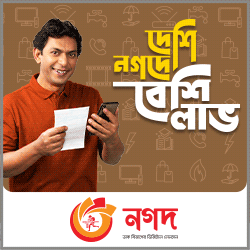 Sources said the latest study showed the grounds that it would take at least 30 years for full utilisation of the bridge with its dual gauge single line track.
They also said the study conducted under a project preparatory facility study project showed the grounds that the dedicated railway bridge or dual gauge double track bridge is not necessary at this moment for not having such railway track with other hill districts except tourism city of Cox's Bazar.
"If double line is constructed, one line would not be necessary for next 30 years. So, the fresh study upheld the findings of the first study proposing to keep road facility with the railway bridge as well," said an official involved with the project.
If necessary, another railway bridge would then be constructed, the official added.
Sources said the railway bridge has been planned in line with the similar project under which a dual gauge single line track is developed from Dohazari of Chattogram to Cox's Bazar.
The Bangladesh Railway took up the Kalurghat rail-cum-road project after the first study as the Economic Development Cooperation Fund of Korea assured it of providing Tk 7.84 billion as loan out of Tk 11.65 billion as the existing railway bridge has become vulnerable to both rail and road traffic.
It was constructed in 1931 with metre gauge single line track but road traffic started from 1961.
But the EDCF showed less interest in the project after the BR decided to construct the new Kalurghat Bridge sometime with dedicated railway bridge and sometime with dual gauge double lines track system.
To avert trouble, a meeting has recently decided to conduct the fresh study under an ongoing preparatory facility project funded by the Asian Development Bank to upgrade the Dhaka-Chattogram-Cox's Bazar corridor. The railway minister presided over the meeting.
Though the project officials find the bridge's utilisation only for tourism purposes to connect with Cox's Bazar town, other officials find its increased use when Matarbari deep-sea port will come into operation fully.