Off-season yellow watermelon cultivation is gaining momentum in Natore.
The mulching method is being followed to get fresh and bumper output. The farmers have started turning to watermelon production to get benefits.
The cultivators of the district are taking preparation to harvest the fruits as its rampant demand attracts the growers. Though it grows profusely from the month of April to June across the country, it may be grown round the year through proper care.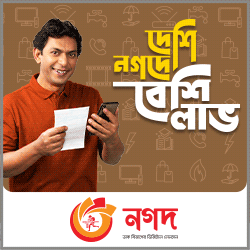 The seeds of tasty unseasonal yellow and black baby watermelon have been knitted last June with the advice of the DAE by providing organic and chemical fertilisers. The harvesting of the fruits could be started after 50-55 days of its cultivation.
The surface of this watermelon is yellow and quite beautiful. After cutting, the sleeves are seen bright red. It is also very sweet and delicious to eat compared to seasonal watermelon.
Every day, farmers of different areas visit the cropland to gather experience as they would bring vast tracts of land under watermelon cultivation next year. The local traders are visiting the croplands to purchase the fruit from the farmers.
An unemployed youth Ziarul Haque at Naodapara village of Sukash Union under Singra Upazila said he has brought 12 decimals of land under yellow watermelon spending Tk 3300 aiming to become financially solvent this year.
Each kilogram of yellow watermelon is being sold at Tk 80 to 85 in the local kitchen markets while Tk 70 to 75 in the wholesale markets in the district. To produce a kilogram of watermelon the farmers are to spend Tk 20 to 30.
The Upazila Agriculture office has provided quality high-yielding seeds to the farmers, said Upazila Agriculture Officer Selim Reza.