The harvest of Aus paddy has begun in Netrakona district and Rangpur region. Farmers are hopeful of getting a bumper production this year.
Our Netrakona Correspondent says: Aus paddy harvest has started in Netrakona district. There has been a bumper harvest of Aus paddy in different areas of the district.
In different areas of Kalmakanda, Netrakona Sadar and Barhatta upazilas farmers have cultivated only Aus paddy in the vast fields around.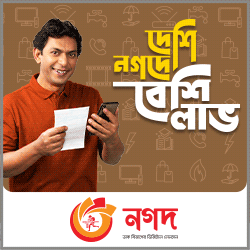 Kendua Upazila Agriculture Officer AKM Shahjahan Kabir said, "Aus paddy has been cultivated in Sandikona, Chirang, Dalpa Kandiura, Maska and 13 other unions of the upazila on 400 hectares of land. Aus paddy production has been bumper this year than previous years."
Farmers of Jhauki village in Sandikona union of Kendua upazila said this time they have planted Aus paddy on 150 per cent of the land. Last season, they got good output by planting Boro paddy on 120 per cent of the land. After getting good profit from Boro paddy, they are now interested in Aus paddy cultivation.
Aziz, a farmer from Dalpa Union in the same upazila, said, "With the help of the agriculture department, we have planted Aus paddy on 90 per cent of the land this year."
Aus paddy cultivation has low production cost. Irrigation is not required. At the same time the application of pesticides and fertiliser is limited. Moreover, this time the stimulus for the production of Aus paddy has increased due to the good price of Boro paddy.
Netrakona Department of Agriculture Extension (DAE) Deputy Director FM Mubarak Ali said, "The yield of Aus paddy in the upazila has improved this season. Crop cutting has already started. Aus paddy was cultivated on 1,290 hectares and the target was 1,530 hectares. This year, he sees the possibility of producing 6,315 tonnes of rice."
BSS reports from Rangpur: The fixed production target of Aus rice is likely to exceed in Rangpur Agriculture Region where harvest of the crop is nearing completion with excellent yield rate making farmers happy this season.
Officials of the Department of Agriculture Extension (DAE) said a production target of 0.17 million (1.75 lakh) tonnes of clean Aus rice was fixed from 62,199 hectares of land for all five districts of the region this season.
Farmers, however, have brought 62,090 hectares of land in the region, less by only 109 hectares against the fixed farming target, under Aus rice cultivation this season.
Meanwhile, farmers have already harvested Aus rice on 50,806 hectares of land and produced 1,65,907 tonnes of clean rice by Monday at an excellent average yield rate of 3.27 tonnes of clean rice per hectare of land.
"If climatic conditions remain favourable, farmers may produce over two-lakh tonnes of Aus rice exceeding all previous production records in the region this year," said Agriculturist Bidhu Bhusan Ray, additional director of the DAE, Rangpur region.
"Farmers are expanding Aus rice cultivation as an additional crop during the off-season after Boro rice harvest and before transplantation of Aman rice seedlings to enhance rice production every year in recent times," Ray said.
After completing harvest of the less irrigation water consuming and short duration Aus rice by the middle of the current month, farmers will transplant Aman rice seedlings on the same land.
"Production of Aus rice increased constantly during the last eight years in the region, largely contributing to ensuring food security amid adverse impacts of climate change," he added.
Earlier, farmers produced 51,722 tonnes of Aus rice from 17,523 hectares of land in 2013 while 59,685 tonnes of rice from 19,205 hectares in 2014 and 61,676 tonnes of Aus rice from 21,063 hectares of land in 2015 in the region.
They produced 65,505 tonnes of Aus rice from 21,751 hectares of land in 2016 while 73,543 tonnes of Aus rice from 24,717 hectares in 2017 and 0.12 million tonnes of Aus rice from 40, 618 hectares of land in 2018.
Farmers produced 0.14 million (1.48 lakh) tonnes of clean Aus rice from 47,552 hectares of land despite huge damage to the crop on 7,754 hectares of land caused by floods in 2019.
"Besides, farmers produced a record 0.18 million (1.83 lakh) tonnes of clean Aus rice from 59,092 hectares of land in 2020 in the region," Ray said, adding that an all-time record of over 0.2 million (two-lakh) tonnes of Aus rice production is likely this year.
Agriculturist Dr Md Abdul Mazid, who got the Independence Medal- 2018 (food security), said cultivation of Aus rice during the off-season on fallow land has become popular following various effective steps taken by the government.