Ten largest listed companies in terms of market capitalisation accounted for 44 per cent of the Dhaka bourse's total market-cap as of Thursday thanks to rising shares prices of large-cap companies.
The total market-cap of the Dhaka Stock Exchange (DSE) stood at approximately Tk 4,683 billion as of Thursday where as the top 10 largest firms accounted for Tk 2,046 billion, according statistics from the DSE.
Market capitalisation, or market cap, is calculated by multiplying the total number of a company's outstanding shares with the current market price of shares.
Grameenphone (GP), the lone listed mobile phone company and the biggest market-cap company, grabbed 9.72 per cent market-cap alone of the prime bourse. The GP's total market-cap stood at Tk 454.91 billion as on Thursday. Its share closed at Tk 337 each on Thursday.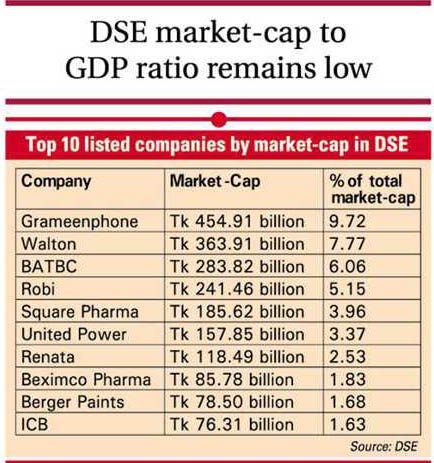 Walton Hi-Tech Industries which made trading debut on September 23, 2020, emerged as the second largest listed company.
The home-grown leading electronics and appliance manufacturer's market-cap stood at Tk 363.91 billion, grabbing 7.77 per cent of the DSE's total market-cap.
Walton issued each of its primary shares to the public at Tk 252 which soared to Tk 1,189.70 on Thursday.
Disclosed business growth and extremely low float of shares made Walton such a hotcake in the bourses, said the merchant banker.
The Walton offloaded less than 1.0 per cent shares and raised a capital of Tk 1.0 billion under the book-building method.
British American Tobacco Company's market stood at Tk 283.82 billion as of Thursday which was 6.06 per cent of the DSE's total market-cap. The multinational company's share price closed at Tk 523.60.
Robi Axiata, the country's second largest telecom operator, emerged as the fourth largest market-cap company. Its total market stood at Tk 241.46 billion.
Robi joined the stock market with the largest-ever initial public offering (IPO) in Bangladesh's capital market history on December 24, 2020.
The mobile phone operator raised roughly Tk 5.24 billion from a wide range of investors including its own employees under the fixed-price method. Its share closed at Tk 45.60 on Thursday.
Square Pharmaceuticals clinched the third spot in terms of market-cap worth Tk 185.62 billion, capturing 3.96 per cent of the DSE's total market-cap. The leading pharma company's share closed at Tk 211.90.
United Power Generation and Distribution Company grabbed 3.37 per cent market-cap as its total market-cap stood at Tk 157.85 billion. The power generation company's share closed at Tk 272.50 each on Thursday.
The next four highest market-cap companies are Renata, Beximco Pharma, Berger Paints and Investment Corporation of Bangladesh, capturing 2.53 per cent, 1.83 per cent, 1.68 per cent and 1.63 per cent respectively, according to statics available from the DSE.
Market analysts said the multinational companies contributed the most to the DSE market-cap they captured one-fourth of the DSE's total market-cap.
A leading broker said all the multinational companies perform well in Bangladesh, so investors have huge appetite for their shares.
The MNCs have been doing well due to their strong fundamental, brand value, well management and quality of products which helped them earn more, he said.
However, the ratio of present market-cap of DSE to gross domestic product (GDP) remained low in the region as the ratio is 14 as of March, this year.