Twelve years have elapsed since Dhaka Elevated Expressway was conceived but its design has yet to be finalised as Bangladesh's first public-private partnership (PPP) project stalls over a snarl-up of variegated projects.
Official sources said such stalemate occurred as the DEE project still has to accommodate other city projects in its design in what is deemed an attitude of noncooperation from different government agencies.
They mention that without the confirmed design of entire 19.7- kilometer corridor, the first DEE project has, however, completed 50 per cent of structures somehow proceeding one step forward under the first two tranches from Hazrat Shahjalal International Airport and Tejgaon.
But the project office and its private investor are still struggling to open already-built elevated road from HSIA to Tejgaon being unable to complete the ramps on both sides, supposed to be in Banani and Tejgaon.
The project office under Bangladesh Bridges Authority (BBA) could not manage concurrence from Dhaka North City Corporation (DNCC) for proceeding further towards Polasey under the second tranche from Hatirjheel area, they said.
The US$ 1.2-billion project, which signed concessionaire agreement with Italian Thailand Development Public Company under PPP on January 19, 2011, has, meanwhile, compromised its ready design in front of FDC in Hatirjheel area by extending span length and shifting the piers to yield space to an underground metro-rail project.
"The DEE project had come before all metro-rail-like road-rail infrastructure projects were taken. But still the DEE has to compromise and change its design for accommodating other projects," says an official engaged in the PPP project.
He lamented that despite all these agencies being under government aegis, the project faces continued obstruction at almost every step. "Considering government's priority for PPP, it should not be so."
Sources said the PPP Authority has also been struggling for troubleshooting of the FDEE project due to facing continuous problems with different government agencies in taking it forward.
The Prime Minister's Office under which the PPP Authority is set up also called a coordination meeting Sunday under the leadership of the Principal Secretary to resolve current conflicting situation.
According to the FDEE project, progress in the first-tranche works for developing over 7.4-km stretch from HSIA to Mohakhali was 94 per cent while Mohakhali to Moghbazar 46 per cent. The second tranche, which was supposed to be up to Maghbazar, was, however, changed due to extending the elevated structure towards Palasey from Sonargaon hotel through Haitjheel area.
Under the 3rd tranche, Bangladesh Railway also asked the BBA to change its design near Kamalapur rail-station as it has planned to build a multimodal transport hub. Both BBA and BR have agreed in principle but could not make it final as the expressway has yet to proceed to that area.
Project officials said many of the design-related conflicts, including in the MRT-5 and Hatirjheel area, were resolved. They said the MRT and the problems with Hatirjheel which arose after a court restriction on building any pier in its waters were recently resolved by shifting piers.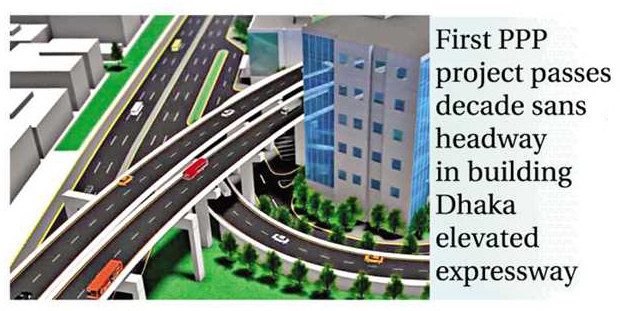 For change to the design of the DEE, the metro-rail company, however, agreed to compensate to the Thai concessionaire as per their claim, the officials added.
But they admitted that despite sending several letters to DNCC to get concurrence to build the extension of DEE towards Palasey, they didn't get any response.
"DNCC even does not reply to any of the letters," says one official, preferring not to be named as he is not entitled to speak to journalists.
The FDEE project, since the beginning, has faced continuous challenges for not selecting the route through a proper feasibility study. The government coming into power in 2009 wanted the private partner to conduct the study as part of the contract during the construction period.
As the PPP concept then did not mature as well as the PPP Authority did not start functioning accordingly, the project has gradually been getting into trouble and its progress getting trapped.
The route from HSIA to Kutubkhali on Dhaka-Chattogram highway was chosen from four routes which were recommended by the consultant of Padma Multipurpose Bridge Project upon a survey hurriedly done as the interested private parties sought a route during the pre-bid meeting to submit their proposals.
The route was chosen to avoid land acquisition as it was supposed to cross Dhaka city almost over the railway corridor.
But the FDEE project had to sign a revised contract in 2013 and 2015 due to cut-down on its important ramps, including in Mohakhali and Bijoy Sarani areas, for giving MRT 6 the priority due to change of the route of the first metro rail.
Its progress continued to be stymied till 2020 as the concessionaire failed to submit its financial closure. And then it could manage two more sources of finance -- China's Shandong International Economic and Technical Corporation Group Limited and Sino-Hydro Corporation Limited--to engage in the project.
The project's deadline, which was initially fixed 2015, has been changed time and again.
Sources said although the project had overcome some of over 100 obstructions, it continued meeting Dhaka Mass Transit Company Limited (DMTCL), Roads and Highways Department (RHD), Rajdhani Unnayan Kartripakhya (RAJUK) and Bangladesh Railway (BR).
The expressway has been planned to ease the city's traffic congestion, including keeping provision of diverting the highway traffic to avoid entering the city. It has planned to have 31 entry and exit ramps to pick and drop city commuters as well as highway travellers.
With this one among numerous projects limping or being half-implemented or stalled, nagging traffic snarls-up in the megacity continued to trouble residents and inflict losses in terms of lost man-hour.
Also, air, noise and environmental pollution continue to earn this otherwise nice city the stigma of 'worst air-polluted'. Experts also mention the stalled route-franchise project, which, if implemented, could dramatically reduce the types of pollution being cited by rating agencies.