Official social safety-net programmes are still to fully cover the destitute despite some progress made in the electronic transfer of funds to the beneficiaries.
For this, development activists have suggested preparing an accurate database of possible beneficiaries of safety-net support to minimise exclusion of aspirants and address inclusion errors.
As the government spends large sums through budgetary instruments to protect vulnerable groups, they recommended engaging non-state local actors in corruption-free distribution of taxpayers' money as allowances among the poor.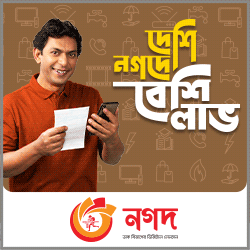 Allegations have it that some solvent people, including the ones having good ties with local authorities have received allowances, whereas those mostly in need have remained out of the dole.
"I didn't receive any allowance as a registered beneficiary. A list was made to support Covid-hit families," said Shirajul Islam, an irregular transport worker from Gaibandha's Fulchhari sub-district.
A union council member enlisted his name and mobile phone number last year to give him financial support.
"But I haven't received any money," Mr Islam said, adding that he could not even reach the member despite making repeated attempts.
There were reports of mismatch in last year's lists made to dispense money to the pandemic-hit people, said Abdul Mannan, a leader of a community-based organisation (CBO) working in the north.
"Almost everyone knows about the anomalies occurred in the process of distributing safety-net funds then."
Mr Mannan, however, acknowledged that the introduction of electronic fund transfer system has slightly addressed the situation for no underhand dealing of any middlemen in the process.
"There are certain anomalies in schemes like vulnerable group development (VGD) and food for work programmes," he said.
A key challenge in implementing social-safety schemes is selection of beneficiaries, he pointed out.
Mr Mannan cited multiple examples of financial chicanery in the process.
Many solvent families received houses erected under a special scheme in observance of 'Mujib Barsha' to provide the homeless people with shelter.
In another case, safety-net beneficiaries were given 25 kg of rice instead of 30 kg last year, alleged Eyaron Begum, a CBO leader working at Golna under the same sub-district.
The beneficiaries had to pay transport cost, although the government allocated all costs, she added.
"Beneficiaries had to pay around Tk 5,000 to secure each VGD card," Ms Eyaron said.
There was some improvement in the situation as community leaders and beneficiaries raised their voices.
Ms Eyaron leads Trinamool Nari Netritto Sangha (Grassroots Women Leaders' Organisation).
"As an organisation we can play a positive role in selecting the most eligible beneficiaries," she said, adding that the widows in the region got the allowance through online money transfer, thanks to their efforts.
A Centre for Policy Dialogue study 'Efficiency of Delivering Social Protection Programmes in the North-West Region' says social safety-net programmes are key enablers to attain sustainable development goals.
Concerted efforts by the central government, sub-national and local authorities can implement the SSNPs, according to the study conducted last year.
"Local actors like union parishads and upazila parishads play key roles in terms of beneficiary selection, implementation and monitoring."
Non-state actors like civil-society organisations can play a complementary role in executing safety-net programmes, it suggested, adding that independent level monitoring by citizens should be institutionalised.
The country's allocation for different social safety programmes crossed the Tk 1.0 trillion mark in the proposed budget for fiscal year 2021-22.
"To protect the poorest segment from unemployment and loss of income due to the pandemic, our government has taken steps to widen the social safety-net coverage," finance minister AHM Mustafa Kamal said in his June 03 budget speech.
When contacted, Palli Karma-Sahayak Foundation deputy managing director Md Jashim Uddin said optimum engagement of local government bodies is essential for achieving expected results from safety net programmes.
"A computerised database of the beneficiaries is a must in line with the country's vision of digital Bangladesh," he told the FE.
"There should be a criterion-based listing strategy to exclude and include bona fide beneficiaries."
Mr Jashim explained that the use of digital platforms in their entirety could ensure transparency.
Recognising the need for collaboration between local government and NGOS, he referred to a PKSF programme 'Samriddhi' that motivates local actors to cooperate.
"NGOs have become more transparent under strict monitoring by the state authorities concerned."