Serious erosion, caused by the upper stream of the Jamuna River, has threatened 13 villages of four unions under Shahjadpur upazila of Sirajganj district.
Meanwhile, hundreds of homes and croplands have gone under water partially as the tide washed away the village protection dam. Therefore, effective measures need to be taken immediately to prevent erosion.
To avoid the unexpected situation, the villagers of the upazila have started shifting their goods from homes to safer places. The women and children are the worst sufferers of the flood.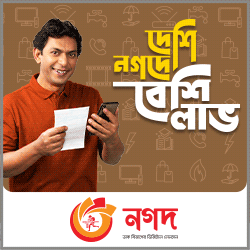 According to locals, Paschim Bantiaar of Sonatni Union, Arkandi of Khukni Union, Jalalpur of Jalalpur Union, Ghatabari, Pakurtala, Hatpachil of Kaijuri Union, Chhota Chantara, Dhitpur, Daikandi, and Bania Singulaare are worst- hit.
Numerous houses and croplands are facing erosion anew by the flood as the water levels of the Jamuna, Karatoa, Baral, and Bangalee rivers have increased over the last few days.
Alamgir Hossain at Arkandi village said if necessary steps are not taken to prevent erosion, the villages and houses will soon be washed away by the Jamuna. He also said people will lose everything and become destitute.
Villagers Deraj Mollah, Abdul Hamid, Dulal Sheikh, Tayjal Mollah, Nurul Islam, and Samsul Alom said all the houses in the area are being washed away. People have lost their homes and become destitute. Prompt action should be taken to prevent the erosion, they added.
Abdul Baten, Chairman of Gala Union, said erosion has started in the villages before the onset of the monsoon. Locals have become unable to protect their homes.
Upazila Nirbahi Officer Shah Md Shamsuzzoha said the Sirajganj Water Development Board will soon take necessary action after inspecting the erosion-hit areas.
Executive Engineer of Water Development Board Shafiqul Islam said a project has been taken up to build local dams and protection dams to prevent erosion. If it is implemented, the problem will no longer exist. Work will start as soon as the ECNEC project is passed, he also said.