The UN's International Fund for Agricultural Development (IFAD) projects were able to reach 123 million rural people across the globe in 2020 including Bangladesh, says a report published on Thursday.
The organisation stepped up its fight against hunger, poverty and exclusion further as the pandemic raged around the world pushing millions of more people towards starvation
The organisation now has 203 projects in hand for which $7.5 billion has been allocated, the IFAD Annual Report 2020 revealed.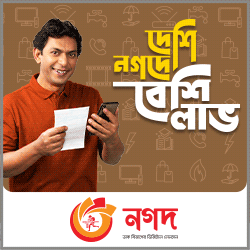 "Despite the challenges of 2020, we remain convinced that our vision of a world free of poverty and hunger is attainable and should remain in focus", President of IFAD Gilbert F. Houngbo said.
IFAD is working in 35 countries across Asia-Pacific, with 55 ongoing programmes and projects for a total investment of $2.55 billion.
The amount includes an additional $365.8 million approved in 2020.
Rural people in Asia and the Pacific are facing a range of challenges and threats, with climate-related hazards being among the most severe.
However, the rural poor stimulus facility (RPSF) of IFAD has helped rural people hang on to their livelihoods in this pandemic period while also maintaining the supply of food.
With supply chains and transportation disrupted, small-scale farmers have received seeds, fertiliser and other support to continue planting and production.
Support for digital services like e-marketing and e-money were increased.
Afghanistan, Bangladesh, Cambodia, Nepal, Pacific Islands, Pakistan and Papua New Guinea are among the countries to receive assistance from the RPSF, a IFAD release said.
In 2020, IFAD stepped up its work with particularly marginalised groups including women, youth, disabled persons and indigenous peoples.