Bangladesh's progress may have exceeded Bangabandhu's expectations in the course of these 50 years thanks to the emergence of a dynamic entrepreneurial class, noted economist Professor Rehman Sobhan said on Monday.
He said the progress is not merely measurable in statistical terms but is manifested in the major structural changes in the economy and social transformation which have taken place as a result of our liberation.
Mr. Rehman, chairman of the Centre of Policy Dialogue (CPD), made the observation while presenting a keynote paper at the inaugural session of a four-day international conference.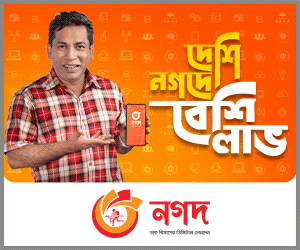 Marking the 50 years of Bangladesh's independence, the CPD along with South Asia Programme of Cornell University is hosting the virtual event titled "Fifty Years of Bangladesh: Retrospect and Prospect."
Mr. Rehman said the country has transformed itself from a largely agrarian society, exclusively dependent on growing paddy for subsistence and jute as a cash crop, while agriculture was the principal source of both GDP and household income.
"We were once industrially backward, dependent on a single industry, jute and a single source of exports, jute products. Today the GDP contribution of industry exceeds that of agriculture and even in the rural areas more than 50 per cent of household income derives from non-farm sources," he said.
The country's exports, now largely dependent on manufactures of RMG, rather than jute products, have grown exponentially while remittance from overseas migrants have emerged as our largest foreign exchange earner which has strengthened our balance of payments, he said.
At liberation, he said, Bangladesh was well behind Pakistan in most areas of the macro-economy, had experienced levels of poverty and lower levels of human development in such areas as education and healthcare.
Over the course of the next 50 years, Bangladesh has moved well ahead of Pakistan in most such areas, particularly in the last 25 years and more so in the last ten years, he added.
The economist said higher rates of growth have moved Bangladesh's per capita income, which was 61 per cent below that of Pakistan in 1972, to exceed Pakistan's PCI in 2020 by 62 per cent.
Such rapid rates of growth have been realised through Bangladesh's higher rates of savings and investment as well as its higher level of exports which were all well behind those of Pakistan's in 1972.
As a result, Bangladesh's foreign exchange reserves are more than double those of Pakistan while our external debt/GDP ratio is half that of Pakistan, he said.
'We are no longer an aid-dependent country. Our aid/GDP ratio is now around 2 per cent whereas Pakistan has required periodic bailouts from the international community," he said.
Mr Rehman mentioned that Bangladesh's infrastructure development, which lagged far behind that of Pakistan in 1972 has also moved ahead in such areas like power generation where our capacity, which rapidly expanded in the last 10 years, is nearly double that of Pakistan.
These remarkable changes in our economy have been driven by the emergence of a dynamic entrepreneurial class which is represented not just by the RMG entrepreneurs and corporate business houses but extended across a much broader social spectrum, he added.
He said Bangladesh's economy has registered impressive growth and poverty has been reduced, but income inequalities and social disparities have widened.
This represents an unjust distribution of the gains from our development and an inadequate recognition, in terms of policies and public support, of the larger constituency of social forces which have also driven our progress, he explained.
He said that this widening of social disparities owes not just to policy and allocative deficiencies but to unjust governance in various spheres, where laws already enacted are not decisively acted upon, policies are not fully implemented and regulations are weakly enforced.
The weakness in enforcing government regulations related to such areas as road safety, building codes and environmental protection as also the inability to ensure that conflict of interest rules are applied so as to ensure that competitive forces operate in all public procurement and development projects, he said.
In consequence, public policies, in the way of fiscal policies and subsidies, along with public expenditure priorities tend to favour the business elite at the expense of less privileged social groups, he observed.
Economic and social injustice, originating in state actions, are compounded by the depreciation in the quality of our democracy, manifested in the weakening credibility of our electoral process, the erosion in the freedom of the media, unfair access to public services and inequitable protection under the rule of law as well as from law enforcement.
The capture of our electoral institutions by the business elite, he said the dominance of money and force in our electoral contestation have further moved the nation away from Bangabandhu's vision of a just democratic order where the voices of the less privileged members of society could be clearly heard in our institutions of governance.
"I suggest that much can be done towards bringing greater justice to the governance process if the ruling regime remains committed to realising Bangabandhu's vision of a just society."
Ensuring the rule of law for all, implementing policies and enforcing regulations, remain within the domain of a well-intentioned government and do not require revolutionary upheavals, he said.
Talking about two key elements of governance and democracy of ensuring a just society, he said the government needs to address various aspects of injustice by enforcement of laws and through improving the governance practice.
"There is nothing impossible in realising democracy and holding competitive elections if the government desires so," he said.
About the current culture of defaulted loans, Mr. Rehman said it is generating considerable concerns about the stability of the financial sector.
"We've to keep in mind that the financial sector is now largely made up of lending by commercial banks, which basically supplies deposits by millions of people. The policy of using the deposits for long term lending, which is not repaid, is creating a serious structural crisis in the financial sector," he said.
"The defaulted loan may end up being laundered outside. These are areas which the government that aspires to reach developed country status need to be addressed," he added.