Land Minister Saifuzzaman Chowdhury inaugurated the online hearing system of the Land Revenue Court to lessen harassment and mitigate people's suffering.
To this effect, the minister said 'Land service in the palm of hand' is no longer just a slogan but a reality at the inaugural ceremony in the conference room of the land ministry on Wednesday.
He also said the online hearing system has been set up to build a technology-based modern and sustainable land revenue judicial system keeping in view the objective of an efficient, transparent, accountable, and people-oriented land management system.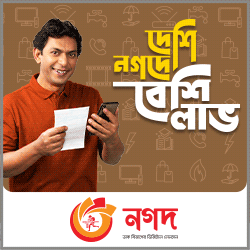 As a result, the fellow citizens will be able to take part in the hearing of the land case sitting at home, he points out.
Saifuzzaman Chowdhury called upon all to register to pay land development tax online and hoped that Prime Minister Sheikh Hasina would officially inaugurate several more land services including an online LD tax system soon.
Chair of the programme Land Secretary Md Mustafizur Rahman PAA said the security of the case hearing will be ensured through NID number and mobile verification.
He also said booths will be set up at important places, including shopping malls and stations across the country to provide land service as per the plan of the land minister.
Land Appeal Board Chairman Md Mashiur Rahman, Land Reforms Board Chairman Md Mostafa Kamal, Director General of Land Record and Survey Department Md Taslimul Islam NDC, Additional Secretary of the Ministry of Land Pradip Kumar Das, and Muhammad Salehuddin were present among others.
All Divisional Commissioners and Deputy Commissioners of Bangladesh and local stakeholders participated in the inaugural function through video conferencing. At the time, the Deputy Commissioner of Chapainawabganj and the President of the Chapainawabganj District Bar Association expressed their hope for the positive impact of the online hearing in the land court at the field level.
It is to be noted that the government has introduced online hearings in the judicial procedure of land courts to build a modern and sustainable land revenue system based on technology. The Ministry of Land has issued a circular in this regard.