Fish fairs making Nabanna - an annual harvest festival that is celebrated on the first day of Agrahayan, the eighth month in the Bengali calendar - have taken a festive mood in all 12 upazilas of Bogura.
Different programmes feature the festival every day, but fish fairs organised by Hindus take centre stage drawing in people irrespective of any religion from morning to afternoon.
While visiting fish fairs at Fotteh Ali and Raja Bazaar in Sadar upazila town on Tuesday, this correspondent found traders busy selling different species of fish, weighing 1kg to 4kg each.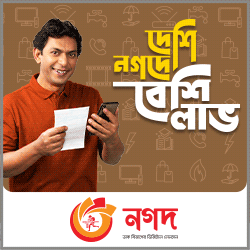 Brigade and silver carp are being sold at Tk 200 to 250, Katla at Tk 300 to 350, Ruhi at Tk 300 to 320, grass carp at Tk 180 to 200, mrigel at Tk 320 to 350 per kg.
Depending on the size of fishes, prices vary – prices of big fishes are higher than those of small ones.
Sayed Raihan, a fish farmer at Dehor village under Kahaloo upazila said, "I farmed fishes in several ponds targeting the festival."
"Now that the festival has come around this year, I have caught big fishes from the ponds and brought here in the Nabanna market for sale," he said.
As Nabanna starts on the first day of Agrahayan every year, traders start preparing for fairs a week before the festival, collecting fishes from different districts in the country.
Locally produced fishes fill up only 30 per cent of demand, according to traders who participate in the fish fairs.
President of Chamber of Commerce Md Masudur Rahman Milon said the traders in the district target a transaction of Tk 100 to 120 million in fish trading every year.
This year is not an exception, he said.
Additional District Magistrate Md Salah Uddin said the fish trading at different fairs in the district is going on, properly maintaining social distance.