Leaders of non-banks or non-bank financial institutions (NBFIs) Tuesday said they would come forward to revive the country's economy in the face of ongoing pandemic by working on liquidity crisis, enhancing internal economic capacity and supporting bond market.
They made the remarks at the first online press conference with the newly-appointed committee members of Bangladesh Leasing and Finance Companies Association (BLFCA).
Highlighting the success of the financial institutions, BLFCA Chairman Mominul Islam, also managing director (MD) and CEO of IPDC Finance Limited, said, "NBFIs have been contributing to the socio-economic development of the country for the past few years. Currently 33 financial institutions with their 276 branches and 8,358 officers are serving 255,000 customers across the country. As of December 2019, our outstanding loan is over 67,000 crores, the lion share of which goes to industrial term loan, SME finance and housing finance helping more than 100,000 job creation every year. By now, we have provided 7.4 per cent loans to banking sector, 13.3 per cent to SMEs, 12.3 per cent to industries, 45.5 per cent to depositors, and 18.4 per cent to general people."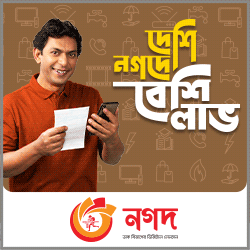 "The capital capacity of the institutions is 16.9 per cent while the capacity of the banking sector is 11.6 per cent. NBFIs are also 1.0 per cent ahead of them in terms of growth," he added.
BLFCA Executive Member Arif Khan, also MD and CEO of IDLC Finance Limited, said, "Nobody wants to invest in private financial institutions due to a high rate of government treasury bills. In order to enhance the bond market, government has to pay more attention to mutual funds. If the bond market develops, the banking sector will also develop."
While discussing the next two years plan, Golam Sarwar Bhuiyan, vice chairman of BLFCA and MD of IIDFC, said, "To take the NBFIs forward, we have organised various workshops for developing the skills of employees at the sector. Besides, we are in talks with banks and government to reduce the existing distance between us, to enhance the ICT-based development and the bond market."
BLFCA Vice Chairman Abu Zafar Md Saleh, also MD and CEO of Islamic Finance and Investment Limited, said, "For the development of the country, it is necessary to allocate works and enact separate regulations for each sector. If every sector runs on the same regulations, the economic development will be severely hampered. Besides, the country's non-bank or non-bank financial institutions are moving ahead in every area."
SM Shamsul Arefin, BLFCA executive member and also MD and CEO of Uttara Finance and Investments Ltd, said, "We don't want to compete with the banks rather want to work together. Our services are easier to receive than in the banks. Hence, customers can get easy loan facility without getting upset."
###