Business Initiative Leading Development (BUILD) has advocated for quarterly announcement of Monetary Policy Statement (MPS).
"The MPS should be announced quarterly in a precise format as fiscal year starts from month of July of one year and ends in June of next year. The year-long monetary policy is less effective than half-yearly and quarterly MPS as the determinants (credit demand, inflation, capital market indices, current account & capital account balance, and foreign exchange rate index) of monetary instruments fluctuate very frequently," the BUILD said in a statement in its reaction to the recently unveiled MPS.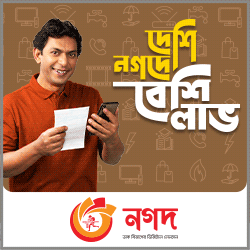 It said the announced MPS has not directed clearly to keep the inflation under control in the era of broad money expansion; it has not shown any direction and policy support about new job creation after the COVID-19 period. As it has been prepared for one year some clear directives for post-COVID strategies could have been included in the MPS.
The growth of M2( broad money) for next two halves has been set 14% and 15.3%, these were 12.7% against target of 13.0% in 2019-20. This measure is mainly taken for balancing the overall liquidity situation. The liquidity imbalance has happened basically for two main reasons; public sector credit expansion and keeping the liquid money in hand to meet COVID and its after shock.
The government has announced a package of about Tk one trillion to address the COVID shock but its utilization is still not very much promising. Policy intervention for liquidity in banking system, rational borrowing by the public sector from the banks in view of lowering earning from non-bank sources( Sanchoypotro) are important. In this respect 10% TDS on saving certificates and lower interest rates may further discourage savings narrowing liquidity in the banks.
"We have a steady foreign exchange reserve with which we can spend it for six months, keeping three months for import expense as reserve, the rest amount can be invested in promising sectors," the BUILD opined.
The overall balance of payment (BoP) has shown a positive sign(+$2bn) that is alarming as over last five months, the import was stuck up due to logistics deadlock. Cumulative export(-16.9%) and import slump has made the current account balance favourable. While remittance increased by 10.9%. It should concentrate on policy support to service export which may help to keep the BoP situation more favourable. Service export is only $5billion( IT sector, indenting services, courier service, cargo services, mother vessel connecting, Internal logistics etc.). New services exports sectors need to be identified with incentives. COVID19 also given opportunities to produce newly emerging sectors for which government has already extended tax benefits.
Decision of further reduction of the Cash Reserve Ratio (CRR) from 5.5% to 4% is a good instrument to give room to the banks to have more liquidity to lend at lower interest rates which makes borrowing more attractive to customers. Banks should choose private sector investment where multiplier effect and rate of return is higher than the other alternative lending options. The Private sector(PS) credit growth should be at least 20% for this regime as the PS is striving for the pandemic where in the MPS it has been fixed at 14.8% for private sector against 44.4% for the public sector.
"For the next fiscal year BB has announced bank rate at 4% that was 5% since last 17 years. BB should be very cautious to lend it to commercial banks on the basis of their track record performance in credit management".
"Some special directives were expected in the MPS as it is apparent that non-food inflation has been increasing specially demand for health services is on the rise, it is presumed that non-food inflation will increase creating more sufferings for the middle class people specially CMSMEs will be the worst sufferers," the BUILD said.
-rmc/