International Monetary Fund (IMF) on Tuesday projected that Bangladesh economy would grow by 7.0 per cent rate in the current fiscal year (FY18).
The fund unveiled the projection in its latest World Economic Outlook, released in Washington on the eve of Bank-Fund Annual Meetings.
It also projected that annual inflation rate would reach at 5.8 per cent at the end of the year.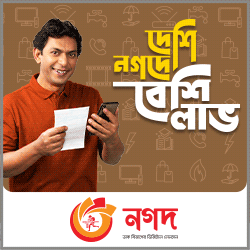 The IMF made the projections on calendar year basis which showed that Bangladesh growth rate would be 7.1 per cent in 2017 and 7.0 per cent in 2018.
For Bangladesh, the calendar year is considered as the terminal year of the respective fiscal year. By this count, 2018 indicates 2017-18.
IMF also projected that current account deficit would be as high as 1.3 per cent of GDP in the current fiscal year.
In the medium-term projection, the international financial institution mentioned that the growth rate of Bangladesh would remain 7.0 per cent in 2022.
End/AK